Panerai Luminor 1950
The Panerai Luminor 1950: Exclusive Luxury
The sight of a Panerai Luminor 1950 on the wrist of a gentleman signifies that he is both sophisticated and savvy. He is a discerning individual who knows and recognizes the quality of style of Panerai timepieces. With humble roots dating back to 1860 when Giovanni Panerai opened his watchmaker's shop in Florence, Italy, this series of time pieces has stood the test of time and evolved into an exclusive piece of incredible craftsmanship and quality.
Join us as we examine this watch among watches in greater detail, bringing you a deeper understanding of the power and luxury that the Luminor series commands.
A Manufacturer of Exceptional Time Pieces
There are a total of three collections in the Panerai brand:
Historical – This collection recently received the Luminor 44mm watch with a new hand-wound mechanical feature, water resistance up to 300 meters, (tested to 400) and encased in either steel or titanium.
Contemporary – New to this collection is the Luminor Power Reserve watch. It is available in titanium or steel and has a power reserve of 42 hours. Also added is the Luminor Marina Gold which is crafted with an 18-karat gold casing, the first of its kind. It is a limited edition with only 150 pieces in production.
Special Edition – The special edition collection recently received the Luminor Marina 1950, a spectacular piece with 56 hours of power reserve and steel crafting. Only 1,950 will be made over a two year period as homage to the original model. It works perfectly underwater and features a two-layered superimposed dial and a patented bridge device. Also added to this collection is the Luminor Blackseal that features a brushed steel exterior and an iconic Italian image engraved onto the dial.
As you can see, the Luminor 1950 is among the most elite watches that the world has to offer. This time piece comes in several variations that allow you to choose which style fits your tastes. Of course, the selections on Timepiece Trader offer you the best possible prices on watches that are incredibly rare and made in small numbers to ensure quality and exclusivity.
Take for example of the Luminor 1950 Special Edition. This incredible piece offers a stainless steel casing, a brown leather strap, sapphire crystal scratch resistant facing and water resistance for up to one hundred meters. The clock face includes luminous hands and index hour markers. Four numbers at the twelve, three, six, and nine positions offer a sleek and simple design.
A Symbol of Incredible Design and Durability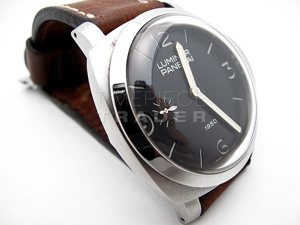 It merely takes a glance at one of these incredible time pieces to know that they are at the top of the world's watches. When Officine Panerai began, the watches manufactured were available only to the Italian Royal Navy. This strict exclusivity eventually moved into a public offering, but even these time pieces are made often with less than 1,000 units in each model. This preserves and keeps the manufacturer's origins of providing exceptional time keeping devices.
The Panerai Luminor 1950 is perhaps one of the greatest watches ever to have been manufactured. Its only competition is the other models surrounding it from this manufacturer. Look no further than this gentlemen, these time pieces are the ultimate choice.